Major builds for Broccolini in downtown Montreal
ajor project announcements have come in swift succession lately for Quebec-based real estate and construction developer Broccolini.
The firm's senior vice-president of real estate development Roger Plamondon recently discussed several of the firm's projects and then announced he had even more news to deliver.
"Have you heard about the National Bank's plans for our new site?" he asked Jan. 23.
In the past seven months, Broccolini has wrapped the 50-storey L'Avenue project across from the Bell Centre, inaugurating the city's tallest mixed-use building; started construction on the new headquarters for Radio-Canada/CBC; put its 35-storey 628 Saint-Jacques condo project on the market, with 80 per cent of the units sold in barely a week, prompting the start of construction with a launch planned in the next few weeks; and, on Jan. 19, announced the purchase of what's said to be the largest remaining space for development in downtown Montreal at a cost of $100 million.
Broccolini also has numerous other projects underway elsewhere in Quebec, Ottawa and Toronto.
The latest from the National Bank is that it has purchased part of the property just acquired by Broccolini at the corner of St-Jacques Street and Robert-Bourassa Boulevard with the intention of building a new head office in what will be the largest office tower built in the downtown core in 25 years, in partnership with the developer.
"In the various real estate forums in Toronto and elsewhere that I go to, everybody is asking the same question: 'what the hell is going on in Montreal?' " said Plamondon.
He tells them the fundamentals are aligned in many respects, with Montreal real estate underpriced compared with Toronto and Vancouver, the provincial government reining in its finances, pent-up demand among prospective homebuyers who have been renting for years, a dearth of condo supply, a strong economy, the recent construction corruption scandal finally in the rearview mirror, and a new mayor who is keen on public transit.
Commenting on the condo market and the mid-October sale of 200 units at 628 Saint-Jacques, Plamondon said, "We are at the sweet spot where affordability is better than in a place like the GTA. Our price levels are lower, interest rates are still low, financing is more readily available and there is a general demand to become owners. When you put all that together, it is a good recipe."
The $150-million Saint-Jacques project has a range of condo sizes available, smaller for young professionals and larger for empty nesters. Prices start at about $330,000 for a 470-square-foot unit. Right across the street is the Square-Victoria-OACI metro station.
The location on Victoria Square, between the downtown and Old Montreal, is a huge selling point, said Plamondon. It's in the Quartier international, across from the stock exchange. The heritage facade Broccolini inherited from a previous failed redevelopment effort, part of an insurance building built circa 1905, is being incorporated into the building design by the architect Neuf, winner of a Broccolini design competition. Neuf went to New York City looking for inspiration, he said.
"We wanted something that was not necessarily too out-there from a contemporary look, that would marry in with a more classical look. Neuf managed to put something together to match that," said Plamondon.
NCK and Dupras Ledoux also worked with Broccolini on preconstruction but otherwise Broccolini is playing a lead role in other facets of the build.
"The simple fact of having both a full-service construction team, and estimation team, within the group permits you to quickly address issues and have a good handle on project financials, and the expertise on the construction side also makes it so that when alternatives are being studied, you are looking at it from all angles," said Plamondon.
"I never have to worry about the intention of the information I am being given. I know it is not being filtered.
"When you package all that together, it is a great formula."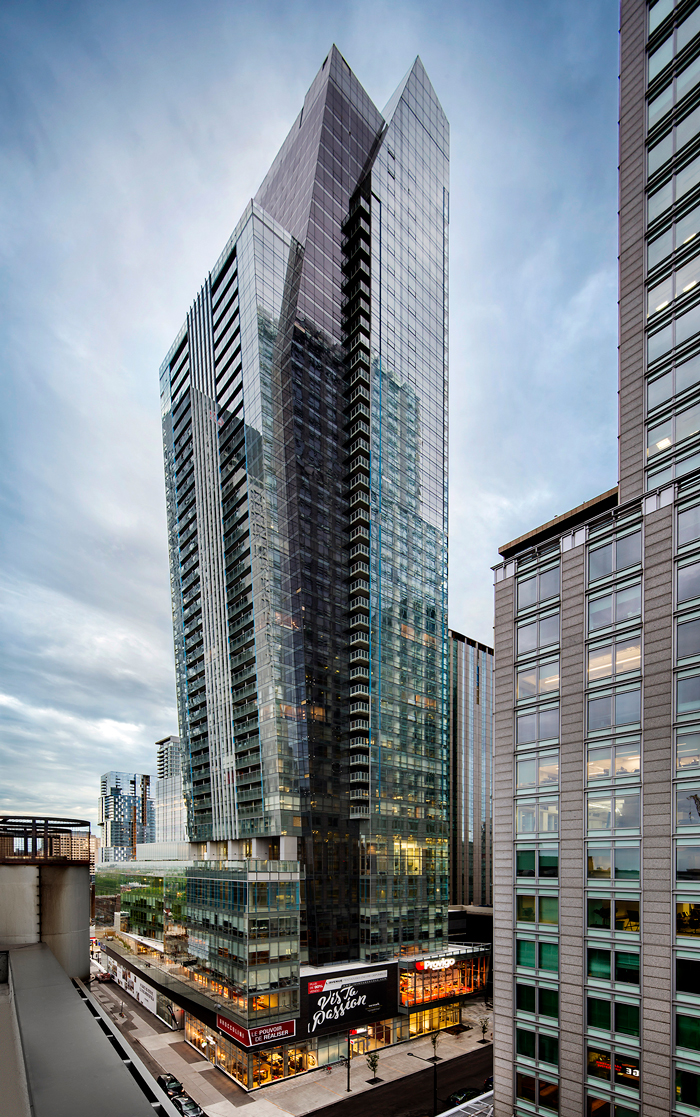 COURTESY OF BROCCOLINI —

Broccolini's 590,300-square-foot, 50-storey mixed-use L'Avenue tower was designed by IBI and BLT Architects and opened its doors on avenue des Canadiens-de-Montreal in Montreal last May.
The L'Avenue project with over 300 condo units and ground-floor retail is located among existing and planned towers being developed by Cadillac Fairview in the vicinity of the Montreal Canadiens' home arena. L'Avenue was designed by IBI and BLT Architects and opened its doors last May.
Broccolini is both builder and owner of the new Maison de Radio-Canada project, under construction since August on the corner of Rene-Levesque Boulevard and Papineau Street. It's targeted for completion in 2020.
Plamondon said aside from its partnership with the National Bank, plans for the new 135,000-square-foot space it just acquired in the Rue Saint-Jacques neighbourhood are in the "embryonic" stage.
The National Bank announcement said occupancy is planned for 2022.
"We have a track record with the National Bank," said Plamondon. "They are a primary lender of ours, so they know us. They know what we commit to and what we deliver, so that certainly takes us a long way in establishing a comfort level."